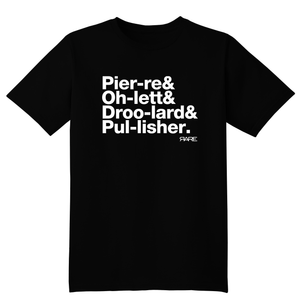 It's a well-known fact that Windsorites have an unusual way of pronouncing the street names across the city. We are by no means the Pronunciation Police. After all, we're guilty of the same speech crimes. This tee celebrates our uniqueness and is a nod to the iconic John Paul Ringo George tee originally created by Experimental Jetset. We had to put our spin on it for our 2nd iteration of our popular Street Signs tee.
We are only producing 50 units of this tee in batches. If your size is out of stock please contact us and we'll try to accommodate you. 
Crafted in Windsor.
Made in Canada.
Made from a 50/50 poly/combed ringspun cotton blend. Giving it a soft and smooth finish.
Stay fresh! Be RARE!